Hang Wire Web Design Services
Your local partner dedicated to growing your business. Since 2004.
Responsive Web Design
In today's competitive world, you have to dress to impress. To stand out from the crowd you need a web design company that artfully conveys your story on all devices.
eCommerce Websites
With many years of experience building secure, scalable and robust e-commerce websites we can set you up with everything you need to safely and efficiently conduct online sales.
Search Engine Optimization
Why spend money on a website if it can't be found! Together we'll develop a website and online marketing strategy that reaches your target audience and grows your profits.
Website & Email Hosting
Your amazing new website needs somewhere to live. We've got you covered! Our website and email hosting fees are competitive and feature 24/7 customer service.

At Hang Wire Affordable Web Design we create truly unique custom designed WordPress sites.
Since WordPress is the most used content management system in the world, you can count on it being relevant for many years to come.
Unlike some web design firms that use their own proprietary design platform, you're not boxed in with Hang Wire. After Hang Wire designs your website you own it and are free to host it elsewhere if you choose. Having a WordPress website ensures any reputable web company will be able to maintain it and make upgrades. Try doing that with a site running on proprietary software.
Another major advantage of WordPress is the ease with which any user can make updates to their website. With every site we design Hang Wire includes a training session to ensure you're able to make updates when necessary. From simple text changes to things like adding a to your e-commerce store, Hang Wire has you covered.
Of course here at Hang Wire we like to maintain relationships with our clients even after a site is launched. We still have active clients from our first year on business in 2004! We're always here to assist with updates, upgrades, or any other question you may have.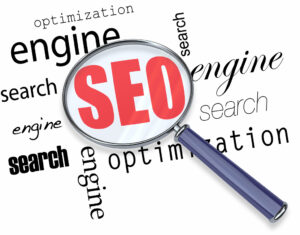 As an added bonus, WordPress is one of the best, if not the best content management systems when it comes to SEO. What's the point of designing a beautiful looking website if no one can find it! WordPress makes it easy to optimize your website for search engines and develop an online marketing strategy to help connect with your customers and clients. Your website should be making you more money than it costs you!
All websites we develop are responsive, meaning they adapt to whichever device/screen size the user is viewing them on. Did you know nearly 55% of all web traffic is now spent on mobile devices? That's huge! As you've probably guessed, WordPress is very conducive to creating responsive web design designs that look great on all devices.
The average lifespan of a website is about two to three years, at which time changes in technology usually make a refresh well worth the time and expense. If your website is inching past the sell by date, it almost certainly would benefit from a little bit of love and attention!