A Seattle
web design company

dedicated to providing the highest quality websites with the best customer service, at

affordable prices

. Since 2004!

We believe your website is an extension of you and your organization. We work hard to ensure your online presentation matches your personality and your potential.

We design websites for businesses, non-profits and neighbors alike, and pride ourselves on our ability to produce amazing results no matter the size of your budget. Every business both big and small deserves an affordable web design solution. Find out what makes us different with a free consultation.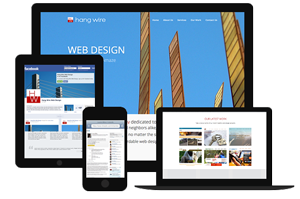 Our Latest Work
Take a look at some of our recent Seattle web design projects.
Our Services
A little about what we do.

Website Design
In today's competitive world, you have to dress to impress. To stand out from the crowd you need a web design company that artfully conveys your story.

E-Commerce
We have years of experiencing building secure, scalable and robust e-commerce websites. We can set you up with everything you need to safely and efficiently conduct online sales.

Online Marketing
Why spend money on a website if it can't be found! Let us help you develop a website and online marketing strategy to help connect with your customers and clients.

Website Hosting
We like to be a one-stop-shop for our clients. After developing your awesome new website we can host it for you as well. Our hosting fees are competitive and feature 24/7 customer service!

Email Hosting
We provide email with 24/7 customer support. Put your company name in front of customers & prospects, suppliers, vendors and partners with every email you send.

Web Development
Need a website with unique features and capabilities? No worries. We're not only designers, but coders as well. Let us development the powerful website that will wow your customers and clients!
Testimonials
What our customers are saying.
It's rare that you come across standout talent. At Hang Wire they are immensely talented, patient and understand everything we push their way. Being in the business for 30+ years they earn my highest recommendation.

- Robert Rasmussen, Park 52 Inc.

Rave reviews on the website. Just sold our first items from the site!

- Kirk Albert, Owner

Your website looks GREAT! It really captures the personality of the store…critical in my opinion. …whoever did it was listening to you!

- Janel, Happy Customer
We'd love to hear from you!
Get in touch or request a free quote!
Seattle Website Design Company Process in Action
We're a one-stop-shop for your online needs. Our Seattle website design team will help you through each phase of the process—from identifying what you want your website to do for you and your business, developing a look and feel that matches your business aesthetic, to launching your new website and keeping it live on the web. Our Seattle web designers are here to help!
No experience with web design projects? No worries! Our extensive experience in web design and customer service will guide you through the process explaining each step in straight forward language. No esoteric tech mumbo jumbo required!
Hang Wire Seattle Web Design
PO Box 80902
Seattle, WA 98108
206.722.3802
info@hang-wire.com