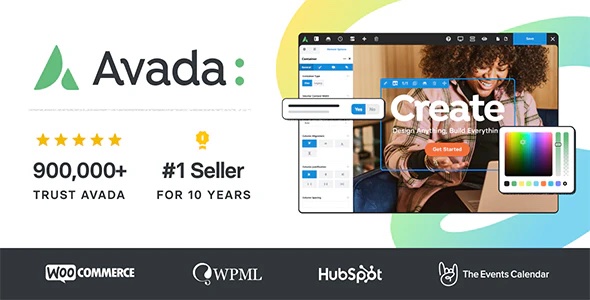 Seattle Web Design Agency Building WordPress Websites With Avada Theme
When it comes to developing a WordPress website it's critical to choose the right theme. A WordPress theme is a collection of files and templates that control the visual design and layout of a WordPress website. It acts as the "skin" of your website, determining how the content is displayed to visitors. In essence, a WordPress theme defines the overall look, style, and functionality of your site.
Since 2004 Hang Wire has developed websites using various themes, but through experience we have determined the Avada theme best meets our clients needs.
Here are some key features and aspects of the Avada theme:
1. Drag-and-Drop Builder: Avada comes with a built-in Fusion Builder, a drag-and-drop page builder that allows you to create custom layouts and designs without any coding knowledge.
2. Multiple Demos: It offers a variety of pre-designed website demos for different industries and purposes, making it easier to start building a website from scratch.
3. Customization Options: Avada provides a wealth of customization options, including color schemes, typography, header styles, and more. You can tailor your website's appearance to meet your client's branding requirements.
4. Integration with Plugins: Avada is compatible with many popular WordPress plugins, which means you can easily extend the functionality of your website. This includes compatibility with WooCommerce for e-commerce websites.
5. Responsive Design: Avada is designed to be fully responsive, ensuring that your websites look and function well on various devices, from desktops to smartphones.
6. Regular Updates: The theme receives regular updates to ensure compatibility with the latest WordPress versions and security patches.
7. Support and Documentation: The Avada theme comes with extensive documentation and a support team to assist users with any questions or issues they may encounter.
8. Optimized for Speed: Avada is designed with performance in mind, and it includes various optimization options to help improve page load times.
9. SEO-Friendly: The theme is built with SEO best practices in mind, allowing you to optimize your website for search engines easily.
10. Header and Footer Builder: Avada includes a header and footer builder, giving you complete control over the design and layout of these critical website elements.
11. Megamenu Support: You can create complex navigation menus with ease using Avada's megamenu feature.
12. Multi-Language Support: Avada is translation-ready and supports multilingual websites with the help of translation plugins like WPML.
Get in touch to see how WordPress plus Avada theme can benefit your business!