Silberian Polyprenols is a health and wellness company based in Seattle, WA with root in the ancient forests of Russia. Selling the anti-aging and immune support supplement containing polyprenols – 3F Three Force.
Polyprenols enhance the protection of cell membranes in adverse environmental conditions like no other supplement can. They support the immune system and increase the body's resistance during physical and emotional exertion. They also promote tissue regeneration. You can feel younger and healthier only after 5 doses of the product containing polyprenols. They also have a positive effect on the cardiovascular system, and help to lower cholesterol. Polyprenols protect body from free radicals and offer a very positive effect on your brain and nervous system by gently increasing your mood.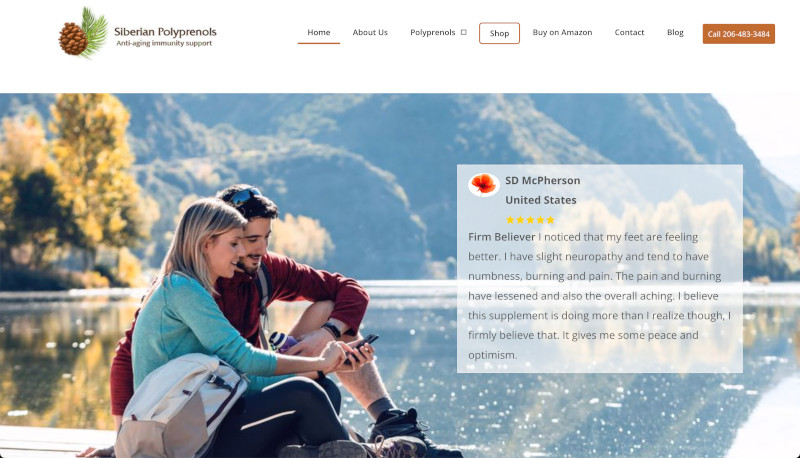 As a new firm, Alexandra McCarthy at Siberian Polyprenols approached Hang Wire to assist with the development of her company's online presence. Hang Wire Affordable Web Design built a full featured e-commerce website with shopping cart using WordPress and Woocommerce.
WooCommerce is the most popular WordPress eCommerce plugin. And it's available for free. Packed full of features, perfectly integrated into your self-hosted WordPress website. Sell anything. Whether it be t-shirts in all their shapes and sizes, music files or software. Even affiliated products from a marketplace. It's all possible.
From Payments, Inventory, and Shipping to Reporting and Marketing, WooCommerce takes care of you.
If you'd like to know more about how WordPress and WooCommerce can help your business, please let us know. Hang Wire Web Design is here to help make your e-commerce dreams a reality!